Captree Fishing with the Captree Fishfinder II

Due to (Covid-19)
We are adhering to NEW GUIDELINES
FLUKE
DAILY
10 AM – 3 PM
NOTE.. Sailing start of FLUKE season MAY 2022
-10am-3pm MON-FRI and 10am-2:30pm SAT/SUN
-.
STRIPED BASS/BLUEFISH
NIGHTLY
5 PM – 9:15 PM
NOTE: Starting April 2022.
—————-
NOTE FROM CAPTAIN WALTER
On behalf of the crew and myself I would like to
thank everyone who fished with us thIs past season
and look foward to seeing you next season have a
Happy and Healthy Holiday and New year..Now its
my time to fish ..Capt. Walter
GIFT CERTIFICATES ARE AVAILABLE ALL YEAR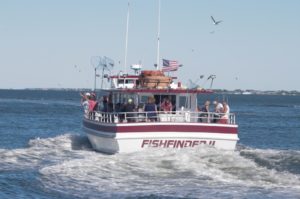 ROD/REEL AND TACKLE INCLUDED IN THE FARE
NO FISHING LICENSE REQUIRED
CHILD FARES
MEN AND WOMEN RESTROOMS

VISA, MASTERCARD, DISCOVER, AMERICAN EXPRESS AND PAYPAL ACCEPTED FOR ONLINE RESERVATIONS.

FISHFINDER WEEKLY FISHING REPORT
Update...Welcome to captree fishfinder weekly fishing report for 2022..we will start our report sometime in May 2022 until then we thank you for fishing with us in 2021 we had very good to excellent fluke fishing both in the ocean and bay with fluke up to 10lbs 4ozs. A very good run of weakfishthis year With weaks up to 8lbs and great striped bass fishing clam chumming and jigging daytime and live eels and bass assissins at night with several stripers in the 40lb range…See captreefishfinder facebook for photos,Video and fishing reports also see the fisherman for reports…
Striped bass fall fishing The Fishfinder 11 fishing every night at 7pm always a full time striped bass boat in the fall the best way to keep on top of night time striped bass fishing…
prme Tide fluke trips (Best tides for fluke fishing on the 5pm trips in the bay)…see above for dates Jun/Jul/Aug ..All other date for the 5pm trips fishing for Blues,Weaks,Striped bass…, see captreefishhfinder facebook for photos also see the fisherman for weekly reports
Thanks Capt. Walter